HDB: HOMES OF
SINGAPORE
This book celebrates the art and culture of Singapore homes, particularly "Everyone's home" - the HDB flat. We spent years visiting more than hundred homes to photograph the life in a HDB. Our aim is to capture the unique living here in Singapore which is formed through the interaction among cultures. Our project aims to enhance sense of belonging, bring appreciation, and draw attention to beauty of life that is happening around HDB flat. We believe this extends beyond the people who live in HDB flats, but also to the wider Singaporean community at large and beyond. This is a distinctive culture, and has contributed greatly to the enduring success of Singapore.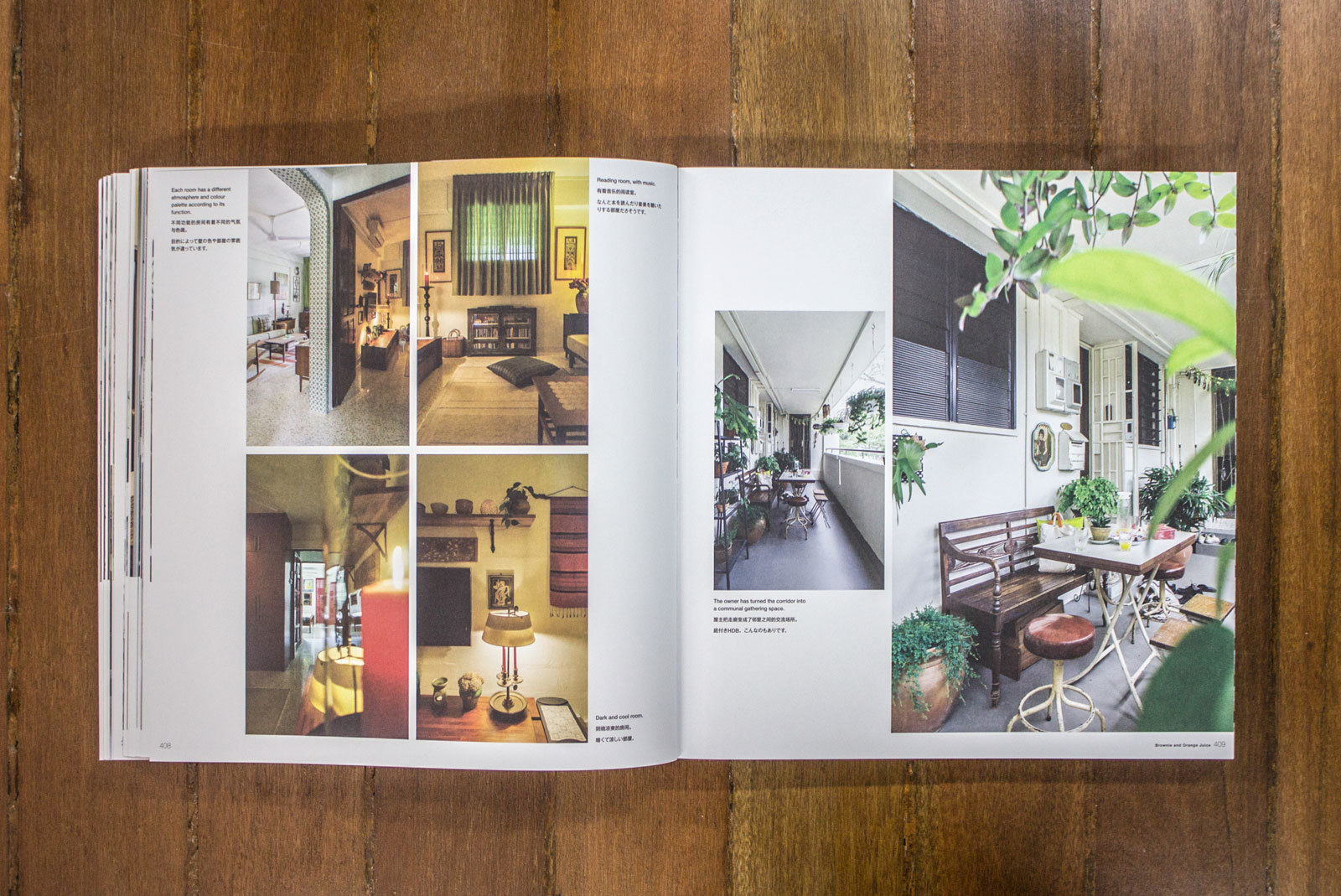 ABOUT THE AUTHORS
KEYAKISMOS

Eitaro Ogawa and Tamae Iwasaki are the passionate people behind Keyakismos. Derived from the Japanese word "keyaki" (Zelkova tree) and "cosmos" (flower), the alias stands for their shared creative philosophy that the collaboration among different elements achieves much more than one. Motivated by their life motto – "love God, love people" – Eitaro and Tamae are involved in art and community projects such as Pameran Poskad which encourages all sorts of collaborations, with the goal of creating opportunities for people to experience art in daily life. They have two lovely daughters.
TOMOHISA MIYAUCHI

Tomohisa MIYAUCHI, Frist-Class Architect registration in Japan, American Institute of Architects (AIA) in USA, is a Senior Lecturer at the Department of Architecture, National University of Singapore, conducting design studio and lectures. His teaching and research areas include architectural practices as entrepreneurship and experimentation, contemporary architectural theory, and curation in architecture. He received his Bachelor of Architecture with distinction from the Southern California Institute of Architecture (SCI-Arc) in 2000, and Master in Architecture from the Graduate School of Design at Harvard University (GSD) in 2004. He set up the architectural partnership in Tokyo shortly after graduating from SCI-Arc and was responsible for the design of a host of built projects relating to art, furniture, interior and architecture in Japan and China. In 2010, he was selected as one of the 20 emerging designers in "JAPAN DESIGN+" by the Ministry of Economy, Trade and Industry (METI) of Japan. He was the co-curator for the Singapore Pavilion at the 15th International Architecture Exhibition (Biennale Architettura 2016) of the La Biennale di Venezia (Venice Biennale) in Venice, Italy in 2016.
︎ VISIT OUR INDIEGOGO PAGE
Title

HDB HOMES OF SINGAPORE
Author Tomohisa Miyauchi, Keyakismos
Publication Date March 2017
Publisher Keyakismos
Book Designer Akira Hombo
ISBN 9789811122866
Pages 680pp
STOCK LIST

Amazon
Gatehouse Publishing
Kinokuniya
SPRMRKT
Select Books
The Artling
PRESS/INTERVIEWS
TODAYonline
Straitstimes
Mensfolio
Home and Decor
Singapore Magazine
J-Plus
Lifestyle Design
EXHIBITIONS
SINGAPORE PAVILION, VENICE BIENNALE 2016, ITALY
SPACE TO IMAGINE, ROOM FOR EVERYONE
28 May – 27 November 2016
Curated by Department of Architecture, NUS
Organised by National Design Council as part of Singapore Design Week 2017

HDB: HOMES OF SINGAPORE BOOK LAUNCH
March 2017
Organised by National Design Council as part of Singapore Design Week 2017
HDB HOMES OF SINGAPORE: THE PHOTO EXHIBITION
3 May – 27 June 2017
Organised by SPRMRKT